by 'Jola Sotubo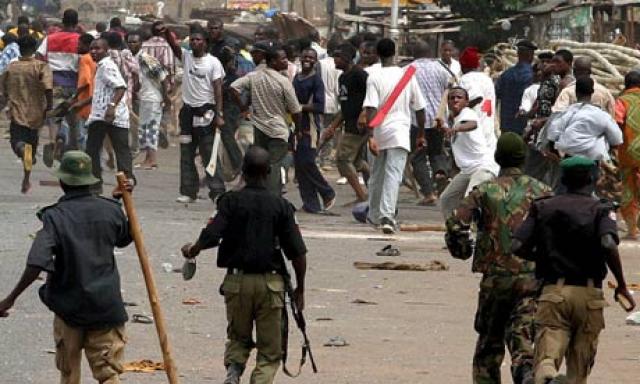 Bodija market in Ibadan was again the scene of pandemonium as flared tempers led to a clash between Hausa and Yoruba traders.
The trouble started yesterday when traders from both ethnic groups disagreed over the sale  of beans in the market. According to reports, it was also believed that hostility towards the Hausa traders increased after the market lost 10 of its Beans traders to Boko Haram killings.
People in the market dispersed quickly to avoid being caught in the mess and reports have it that there was no loss of life although property worth millions was destroyed.
Read the report below:
It was gathered that tension has heightened in the market after the June 5, 2013 killing of 10 beans traders by Boko Haram members in the North. After the killing, the Ibadan Foodstuff Traders Association placed an indefinite ban on travelling to the North to purchase beans on its members.

It was gathered that despite the ban, Hausa traders still brought beans from the North to the market and sell at very exorbitant prices.
The situation worsened as a bag of beans has rose from N11,000 to N20,000
Owing to this, a peace meeting between the two tribes was called by the state Commissioner of Police, Mohammed Indabawa.


It was after the meeting that fighting broke out between the two tribes.
After returning from the peace parley at the Oyo State Police Command headquarters in Eleyele, Ibadan, it was gathered that beans sellers from the North took delivery of three trailers of their commodity.
But on sighting the three trailer loads of beans, there was a violent reaction from the Yorubas traders in the market. This later spread to the whole market. As a result of the confusion, the whole market was deserted,.


A combined team of riot policemen and the Oyo State Government security outfit, Operation Burst, chased people away from the market.
Many people were seen with their hands up in strict obedience to order of the security operatives.


Akeem Emiola, the Public Relations Officer of the Ibadan Foodstuff Sellers Association, confirmed the violent clash to Sun News Online.
Emiola said: "No one from the association ordered reprisal attack on the Hausas."
He added that nobody could explain the cause of the pandemonium.
He said after the meeting with Indabawa, no one expected any violence.
Bodija market had its first documented riot in 1999 and unlike the present one, it involved the loss of both lives and property.