From the inspirational stories at the on-going Olympics in Rio to India where Irom Sharmila ended her 16 year fast; here are top 10 photos of the past week from around the world;
Head for Gold – Nigeria's Dream Team VI player, Sadiq Umar scores a header to seal a hard-fought 2-0 victory against Denmark on Saturday, August 13, 2016 at the Rio 2016 Olympics football event. Nigeria will now play Germany in the semi-finals.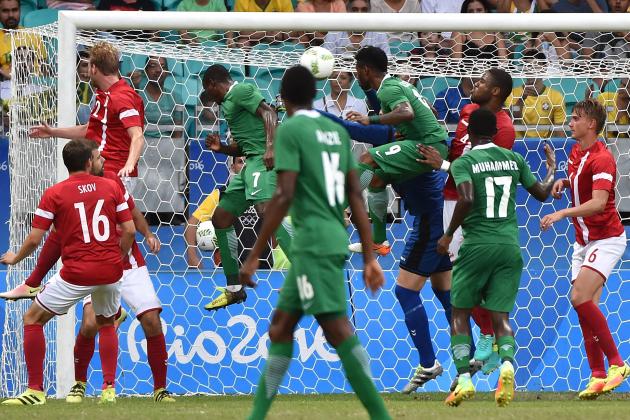 2.Rescued at sea – Migrants from Nigeria and the Ivory Coast rescued by a Migrant Offshore Aid Station (MOAS) team in the central Mediterranean Sea, close to the Libyan territorial waters on Wednesday, August 10, 2016.
3. Counting for power without power – Zambian Electoral Commission officers check voter registration books and count votes with torchlights at a polling station in Lusaka South during Zambian general elections on Thursday, August 11, 2016 in Lusaka.
4. Just keep running: Ethiopian runner Etenesh Diro runs the last 800 meters of her 3000m steeplechase heat with one shoe on and one shoe off at the Olympics – which is against the rules but she was later given a chance to compete in the finals.
5. Win Gold in style: Ethiopia's Almaz Ayana smashes the world record by over 14 seconds to win Olympic gold in the women's 10,000m in Rio on August 14. She becomes the first woman to break a 10,000m world record at an Olympic Games.
6. Bowing out in Style: Michael Phelps, the most decorated Olympian in history leads the U.S. to victory in the 400-meter medley relay – his final race before he retires – at the Olympic Aquatics Stadium on Saturday, August 14.
7. Just keep running: – Simone Biles competes on the beam for Team USA during the gymnastics women's team final at the 2016 Summer Olympics in Rio de Janeiro on Tuesday, August 9, 2016. The women's team won gold.
8. A man attempts to climb to the top of Trump Tower – headquarters to Donald Trump's campaign in New York on Wednesday, August, 10. The 58-story building is headquarters to the Republican presidential nominee's campaign. He also lives there.
9. A Fight for Democracy One India's most powerful activist, Irom Sharmila licks honey to break her 16 year fast on Tuesday, August 9, 2016 after being force-fed through a tube in her nose and held by police since November 2000 for protesting against a law giving enormous power to soldiers in Manipur, India.
10. Mending broken fences – Russian President Vladimir Putin hosts Turkish President Recep Tayyip Erdogan on Tuesday, August , 2016 in St Petersburg for peace talks after Turkey shot down a Russian bomber on the Syrian border in November 2015.