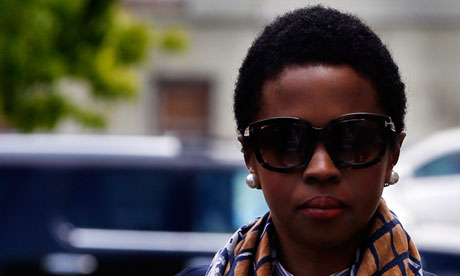 Lauryn Hill, the Grammy award-winning US hip-hop artist, has been sentenced to three months in prison and an additional three months of home confinement for failing to pay taxes on about $1m (£640,000) in earnings.
The singer, who largely disappeared from public view to raise her six children after a high profile career with the Fugees and then as a solo artist, pleaded guilty last year.
Hill, 37, told a court in the US state of New Jersey on Monday that she had always meant to eventually pay the taxes but was unable to during a period of time when she dropped out of the music business.
"I needed to be able to earn so I could pay my taxes, without compromising the health and welfare of my children, and I was being denied that," Hill said in a statement, without explaining what exactly triggered her actions. Before the sentencing, Hill's lawyer said that the singer had paid more than $970,000 to satisfy the state and federal tax liabilities.
Hill started her hip-hop career in the Fugees in the early 1990s alongside Wyclef Jean and Pras Michel before going solo in 1998 with the critically acclaimed album The Miseducation of Lauryn Hill.
Although the singer has been inactive musically, she earned the money largely from music and film royalties. She also owns and operates four different companies and had been staging a comeback. A second studio album, The Return, is due for release later this year.
At the time of her arrest last year, she wrote a criticism rejecting pop culture's "climate of hostility, false entitlement, manipulation, racial prejudice, sexism and ageism".
"Over-commercialisation and its resulting restrictions and limitations can be very damaging and distorting to the inherent nature of the individual," Hill wrote.
Read more: Guardian UK