by Eromo Egbejule
Eromo Egbejule investigates why black is no longer beautiful
Perhaps because manuals are too mainstream, Jamaican dancehall superstar, Vybz Kartel's 2011 hit Cake Soap, comes complete with skin lightening instructions and blurbs for lyrics. The song, which glorifies the popular laundry detergent in the Caribbean country, is one of his promotional antics for the practice more commonly known as bleaching.
He launched his own range of men's cosmetics that year.
Cameroonian popstar, RepruDencia has followed suit two years on – complete with loud online campaigns across two continents – with the rollout of her skin care "black spot remover", the aptly-named "Whitenicious".
She is not a lone ranger.
South Africa's Nomasonto 'Mshoza' Mnisi has been unapologetic in advocating skin lightening for her fans, and just last year, in a much-talked-about interview with Rubbin' Minds' Ebuka Obi-Uchendu, actress and, ahem, singer, Tonto Dikeh did not shirk from the question: "If you do not like your skin colour," she told her stunned host, "You can change it."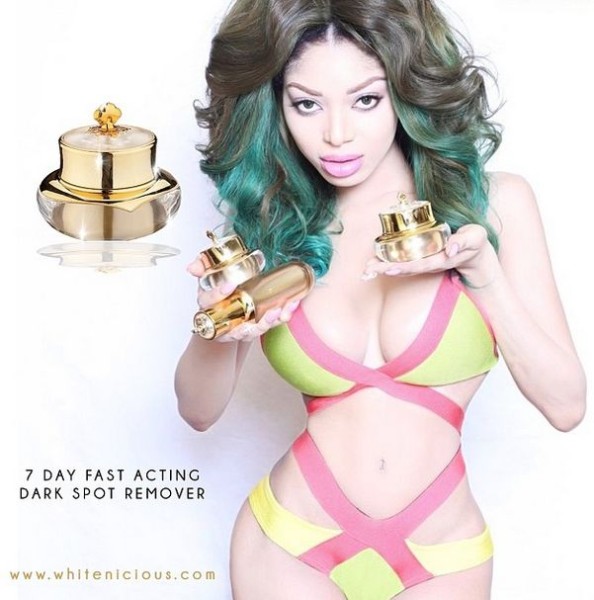 Change your style
Before the 2000s, skin brightening or toning was something you did on the "down low" – you used your creams, soaps, pills and injections, with many practitioners win the secret, the stigma strong in the care for those seen as either desperate for attention, lacking in confidence or simply tacky.
Fela Anikulapo-Kuti's withering sneer in his song 'Yellow Fever' spoke for the Nigerian society. To have your skin 'transformed' from black to white was the lowest form of colonial mentality – to be mocked endlessly in literary books, and caricatured in TV skits.
It even got worse at democracy's return. President Olusegun Obasanjo's appointment of a relentless former university lecturer called Dora Akunyili to head the food and drug administration agency meant that sales of bleaching 'equipment' were not only socially unacceptable, and then illegal; the laws were now enforced with a vengeance.
So how did we go from that to a 2013 report by the World Health Organization that Nigerian women are the highest users of skinlightening products in the world, with 8 in 10 of them guilty of bleaching?
Or that ranking by international news platform, Al Jazeera, putting Nigeria as the country most affected by the whitening obsession globally.
How did we get to the point where a revolving door of celebrities including on-air personality Toke Makinwa, Dencia, Tonto Dikeh and others are seen as icons of a trend, one that cuts across Nigerian society from the snobbish Island to the mass Mainland?
How did skin care parlours begin to openly boast of their ways, with men also comfortable, in a patriachial society, in speaking about their mutating colours? How did we move from the condemnatory 'Yellow Fever' to Whitenicious?
Yellow Fever
"The bleaching culture has always been in existence", says Franka Asindi, former editor of Complete Fashion, making the case. "People are only just beginning to pay attention to it. Almost everyone I know, including yours truly, has at one time or the other ventured into the act of bleaching. I prefer to call it toning though. Personally, I don't have any issues with people's decisions to enhance the tone of their skin as long as it is done in moderation."
Colonial mentality, external pressure and low self-esteem are to blame, posits Yaba Blay, a professor of Africana Studies at Drexel University who has written several pieces on skin colour politics using her native Ghana as a case study. According to her, light-skinned people have always been seen as more appealing and are generally associated with higher socio-economic status – or, at least, taste. Take neighbouring Senegal, where founder of the Dakar Fashion Week, Adama Paris has banned skin-bleached models from her runway after the use of complexion-enhancers appeared to have doubled.
"People are responding to the cues and pressures in their societies especially in West Africa", she says in a Skype interview. "If we want to understand the phenomenon, we have to stop looking at the women (and men) and look at society."
Despite the proliferation of songs praising the 'omo-pupa' (yellow, in Yoruba) female, comments on popular blocks excitedly pointing to 'yellow fine boys' and anecdotal evidence of random complaints that the 'sun has taken away my natural colour', critics will die insisting the "light is right" philosophy is an anomaly.
They point to those many Caucasians who sit under the scorching sun chasing after a tan and, by extension, brown skin. But then, there stands the counter argument.
"Is it really bleaching when you've been darkened by the sun and you want to get back your 'brighter' complexion?" asks Jennifer Okonkwo, a 24-year-old model, without irony. "Or when you just want to get rid of high pigmented areas?"
That's an argument that must be taken as popular. Only recently, Ghanaian actress and bikini enthusiast, Yvonne Nelson made the news following rumours that Zaron Cosmetics was dropping her as brand ambassador due to embarrassment from her "skin toning". Her response was interesting: she is only using cocoa butter, which has "enhanced" her natural complexion.
Light up Nigeria!
Enhancing your complexion has been said to enhance access to opportunities across the board – and not just in the endless search of a husband where, literally, all is fair in love and war.
Many in banking will point to one or two banks claiming to work in your best interest who deliberately skew recruitment processes to select light-skinned marketers, customer service personnel andother public-facing staff including receptions. Just like many a Nigerian actress will insist she has lost a role because she took India Arie's 'Brown Skin' a little too literally.
Putting on your TV set in Nigeria will certainly give you that sense. Movie and music video sets are either visited only by white, biracial and mixed-race ("half-caste") females, or someone is discriminating against the brown and the black.
Lola Okunrin (not real names) is a budding actress distinguished as much by her jet-black complexion as well as her roles in top-notch Nollywood movies in the last two years. She relocated from the United States to pursue her passion in her homeland and, according to her, also because of the disdainful treatment accorded her ilk – an echo of complaints by Hollywood stars like Viola Davis and Gabrielle Union.
She has found little comfort at home, she reports. She insists she has roles to close friends, only because they are several shades lighter than she is.
"By 2018, we won't use dark-skinned girls any more," she overheard the Director of Operations on her set telling a crew member a few days before our conversation. "Only yellow girls will be doing films in Nollywood."
Another industry stakeholder once told her to stop whining and get with the programme, she says: "Just tone your complexion. You are already pretty, so you'll be getting more roles if you do that."
But she is unperturbed, she claims. "My talent will speak for me. My job is acting, while his is to 'light' me, so it's none of my business what he thinks. On every set I go, they make silly jokes."
Lola points accusing fingers at the actors who have succumbed to the pressure and thus made it hard for others to withstand it "Even Mercy Johnson has had to do toning, because of the continual pressure; just check her initial films and now. We were the same shade of black before. If I had my way, I'd just do only theatre productions. They even pay more."
Tone it down
The adaptation of Chimamanda Ngozi Adichie's Half of A Yellow Sun into a movie of that same title last year, caused furore in Igbo circles after the darker Genevieve Nnaji was given a cameo role while Thandie Newton and Anika Noni Rose got to play the lead characters, presumably because of the duo's lighter skin and in spite of dodgy accents.
Then there is the matter of superstars Akon & Wizkid, who came under fire in November after reports that they had rejected dark-skinned models for a video shoot in Ghana.
FashionGhana.com pulled no punches in reporting the incident, denied by both acts:
Ahead of the upcoming concert that will see the likes of Akon, Wizkid, Sarkodie and more in Ghana, controversy sparks! In a recent video shoot for an up and coming Akon and Wizkid video, some Ghanaian models and girls were called upon to participate by the directors a few days ahead of the shoot. Presumably prior to Akon and Wizkid's arrival in Ghana.

A model reported on the day of the shoot some girls were turned away as the agent (or the man responsible for calling them) informed them that "they now want half cast girls". A term used to describe girls with mixed heritage, usually ones with white blood in them.
"THEY", most likely referring to Wizkid, Akon and/or his music video producer, turning away a fleet of arrivals originally requested to attend by the model scout. In fact, the agent requested if the girls could help him seek light skinned girls because 'THEY' were so adamant on this request even on late notice.

Nigeria, where WizKid is from, and Senegal where Akon is from, are countries both flooded with girls bleaching their skin simply because of such discrimination and being made to feel ugly if dark. Not just in media and modelling, but general favours in life. Whilst there are good people in both countries trying to reverse the self esteem damage of such activities such as Adama Paris who banned skinned bleach models from the Senegalese national fashionweek, Akon and Wizkid's team are trying to further such acts internationally.

The celebrity endorsement of toning, either directly or indirectly, is worrisome, laments Ayodeji Rotinwa, who writes fashion for ThisDay Style: "It's exactly why this is becoming so widespread, a culture, more acceptable. The reasoning is that being lighter-skinned will help surf the waves of opportunity especially in the murky waters of relationships and being light(er) skinned has opened doors for many or has helped them up the ladder of popularity or made them more desirable."
A skin-care expert, who declined to be named, goes a step further with names: "Rita Dominic's new colour suits her; I think she did hers nicely. Then Toke Makinwa and Yvonne of Vonne Couture. Now, I won't judge these people because I've also tried to tone my skin a few times and failed woefully at it; I didn't have the resilience and no desperate need for attention. My self esteem didn't get that low I guess!"
White-wash
But there are serious issues that go beyond theskin-deep.
Some studies have shown that most bleaching creams contain cancer-inducing substances like hydroquinone or mercury which couldpotentially react with ultra-violet radiation from the sun, greatly increasing the risk of skin cancer, aging rate and other side effects like renal failure, dermatitis, cataracts, blood poisoning, swelling of the skin and possible birth defects. Both substances are melanin inhibitors and therefore make black pigmentation less visible, a result that is usually reversed after stepping out in the sun in tropical countries, like Nigeria. The sun causes the skin to stink and also precipitates black patches all over, so victims are forced to use heavy makeup.
Articles on Clutch and BET.com, speaking against Dencia's shiny new toy, have emphasized risks from mercury poisoning to skin burns. When Jezebel columnist Hillary Crosley heard of the product, her response was short: "Please kill me now."
Nigeria once used to take this as seriously. Under the leadership of Dora Akunyili between 2001-2008, the National Drug Law Enforcement Agency (NAFDAC) clamped down heavily on drugs and other substances believed to have inimical effects on Nigerians. Many believe that Dr. Akunyili's exit paved the way for bleaching to return.
"A lot is going wrong with NAFDAC under this new director," said a former staff, who spoke on condition of anonymity. "If you go by the Cosmetic Products Regulations of 2005, you'll see that most of these substances people are using to whiten their skin have been banned, from Movate to Tura, gluthathione and the rest. Even the use of lime as a bleaching agent is not allowed, but no one wants to enforce anything again."
Hundreds of illegal cosmetics factories were shut down during Akunyili's tenure, a move that earned her frowns and in the drug manufacturing retailing industry. It appears all is now well for them.
Many are back in business under false names andspoof business ventures that are often unregistered. The products are peddled nationwide by a legion of young people who serve as representatives for several skin care production companies.
"It's your life, man. YOLO things. My own is to sell and make money for my pocket. If your 'before' and 'after' resemble coke and fanta and stretch marks full your body like graph sheet, na you sabi." says Tobi Adelakun, an undergraduate at the University of Lagos who claims to know a lot of students who tone their skin.
Shine bright like a diamond
Blay is curator of (1)ne Drop, a project that "seeks to challenge narrow perceptions of blackness as both an identity and lived reality" and has served as a consulting producer for CNN Black in America – "Who is Black in America?", a television documentary inspired by the scope of her project.
While initiatives like this can kick start meaningful discussion on the subject, it remains to be seen if they will broaden the parameters for evaluation and interaction with black people.
For beautician and skincare expert, Pela Okiemute – whose change from being fair-skinned to pale white has begun the stuff of gossip blog lore – his reward for teaching Nigerians how to change their skin colour doesn't have to wait for heaven.
Twitter feeds from 2012 confirm he interned at the Victoria Island, Lagos office for Tiannah Styling, owned by the – of course – light-skinned celebrity stylist, Toyin Lawani. He soon found his niche.
According to his Facebook page, his Pels Skin Care products, imprints of his own company Pels International, sell between N15,000 – N40,000 ($94 – $) each and will help users "get light in 10 days" or make their lips "pink, fresh, sweet and soft".  With two business lines, an upscale Lekki store and unconfirmed reports of big-name clients like model Venita Akpofure, clients area long line, Hissteady stream of Instagram photos show off his car, his house, his bling, and rounded cheeks.
The first batch of Dencia's Whitenicious stock, a rival range of cosmetics, were reportedly sold out just a day after they landed in Lagos, another testament to the fact of a growing sector.
One growing so fast that the singer is certainly undeterred – and bolder even thanking her critics for writing "PhD worthy essays" that have ramped up her visibility. "Damn I need to send media takeout a check ..," she exclaimed in December. "Sales Up 1,000%! all Americans .. Can't wait 4 u ladies & Gents 2 say Goodbye 2 Dark spots."
When a tweet cried out, "I don't see how ppl can support your skin line??? People should love what GOD gave them", Dencia's response was swift: "God didn't create darkspots."
There are many who will tell you that Dencia speaks for them.
– See other long-read pieces HERE